The 2023 NCAA Women's tournament begins on Wednesday, March 15. Prior to the tournament craziness, here's an updated mock draft based on the recent conference tournaments and end-of-season games. The top six picks remain unchanged from version 2.0.
FIRST ROUND
#1. Indiana Fever – Aliyah Boston, 6'5 C, South Carolina
During the SEC tournament, Boston averaged 13 points per game, 9 rebounds per game, and 2 blocks per game. Boston also shot 55.5 percent from the field during South Carolina's three games in the SEC tournament. Additionally, she remains one of the best defensive players in college basketball and would bolster the Fever's weak post rotation.
#2. Minnesota Lynx – Diamond Miller, 6'3 SF, Maryland
Maryland's Diamond Miller remains the Lynx pick here. Miller was the Terrapins' standout during their Big Ten tournament despite an early exit. Through their two games, Miller brought in 35 points, 15 rebounds, 10 assists, and six steals. The Lynx free agent signings have been bringing back guards Rachel Banham, Bridget Carleton, and Lindsay Allen plus posts Damiris Dantas and Nikolina Milić. Additionally, Minnesota signed longtime Indiana Fever wing, Tiffany Mitchell, on a two-year deal. Adding Miller to their backcourt rotation would be seen as a long-term commitment.
#3. Dallas Wings – Jordan Horston, 6'2 SF, Tennessee
Horston would provide an equal distribution of offense and defense to the Wings. During Tennessee's run in the SEC tournament, she would bring in 19 ppg, and 8.6 rpg while shooting 44.6 percent from the field. The Wings lost Kayla Thorton, Marina Mabrey, and Allisha Gray in free agency and now have a massive hole at the wing position. Horston's ability to play multiple positions would be a great asset for this Wings team.
#4. Washington Mystics – Haley Jones, 6'1 SG/SF, Stanford
Jones fills out the stat sheet and is suited for the Mystics' need long-term. Stanford's run in the PAC-12 tournament was short-lived due to an early exit by UCLA. Jones's ability to be a versatile player in the WNBA will be a great benefit to her career. However, in her two games in the PAC-12 tournament, Jones's shooting woes continued. She would shoot 8-30 from the field in only two games without attempting a three-point shot. This is a must needed improvement for her career in the long run.
#5. Dallas Wings– Maddy Siegrist, 6'1 PF, Villanova
Locking in Siegrist here for Dallas. Recently, she became the Big East's all-time leading scorer (male or female) and dropped a career-high 50 points against Seton Hall. Her ability to score from anywhere on the floor makes her a great asset for the Wings' offensive game. A solid rebounder as well that can run the floor and get back defensively. Siegrist's length, shooting, and skillset gives her all the tools to be successful in the WNBA.
#6. Atlanta Dream – Lou Lopez Sénéchal, 6'1″ SG/SF, UCONN
Sénéchal is a grad transfer from Fairfield where she played from 2018-2022. At nearly 25 years old, Sénéchal will be one of the oldest players in this draft class. However, her experience and ability to jump into a critical role with the Huskies after numerous injuries has made her the most versatile player for UCONN. A solid, all-around player as well will enable Lou to adapt to the Dream's current rebuild. Sénéchal's currently shooting 46.7 percent from the field and 43 percent from three-point range. Improvements in the WNBA will need to be in rebounding and limiting turnovers.
#7. Indiana Fever – Grace Berger, 6'0″ SG, Indiana
Berger's stock has continued to rise through this NCAA season. Even though the Fever has stockpiled their roster during free agency, drafting Berger gives them a solid guard to back up Kelsey Mitchell. A high-efficiency shooter, a strong defender, and a capable ball handler gives Indiana some needed depth in the backcourt. Indiana drafting the local standout could also boost ticket sales as well.
#8. Atlanta Dream – Taiyanna Jackson, 6'6 C, Kansas
The Dream now looks for post-help with their second pick during the first round. Insert Kansas's Taiyanna Jackson. After South Carolina's Aliyah Boston, Jackson is the next best available post in this draft class. Additionally, Jackson has been a force in the paint for the Jayhawks this season. She's currently averaging 14.8 ppg, 12.6 rpg, 3.1 blocks per game while shooting 66 percent from the field. A true center is needed for this Dream roster. Adding Jackson could allow Cheyenne Parker to slide over to her more natural position at power forward.
#9. Seattle Storm – Madi Williams, 5'11 SF, Oklahoma
The Storm secured their 2022 third-round pick in Jade Melbourne to add to their point guard depth for 2023. With several players lost in free agency, the Storm look at Oklahoma's Madi Williams. A poor showing in the Big 12 tournament shouldn't slide Williams out of the first round. A reliable, consistent shooter and solid defender saw Williams average 15.5 ppg on 52.1 percent shooting and 33.3 percent from three-point range. Williams should see significant playing time in Seattle playing behind the newly acquired Kia Nurse.
#10. Los Angeles Sparks – Ashley Joens, 6'0″ SF, Iowa State
The Sparks have a tremendous hole at the wing position with both Katie Lou Samuelson (pregnancy) and Stephanie Talbot (Achilles) both out for the season. Sparks look for the best available here and that would be Iowa State's Ashley Joens. Joens' draft stock shot up during the Big 12 tournament where the Cyclones ended up with the championship. During their championship run, Joens averaged 26.7 ppg and 11 rpg while shooting 40.6 percent from the field. The Sparks need added offense to this roster and Joens fits into Curt Miller's system nicely.
#11. Dallas Wings – Celeste Taylor, 5'11" SG, Duke
The Wings need help defensively and look to draft the ACC Defensive Player of the Year in Duke's Celeste Taylor. The Wings were ninth in 2022 in their defensive rating and recently traded for 2019 WNBA Defensive Player of the Year, Natasha Howard. Locking in Taylor on the perimeter would allow for a stronger defensive boost off the bench. Having averaged nearly 2 steals per game, Taylor is also a respectable, long-range shooter having shot 32.5 percent from three-point range.
#12. Minnesota Lynx – Jacy Sheldon, 5'10 SG, Ohio State
The Lynx still have a gaping hole at point guard having only secured Linsday Allen through free agency. Sheldon has played in only nine games this season due to recurring injuries. Additionally, she could also opt to return to Ohio State next season. However, at the moment, the Lynx gamble and draft a defensive specialist point guard in Sheldon. Furthermore, Sheldon did play limited minutes in the Big Ten tournament. Through three games, she averaged 6 ppg, 2 steals per game and 2 apg in just 14.7 minutes per game. If she remains healthy, Sheldon could potentially end up as the Lynx's starting point guard.
SECOND ROUND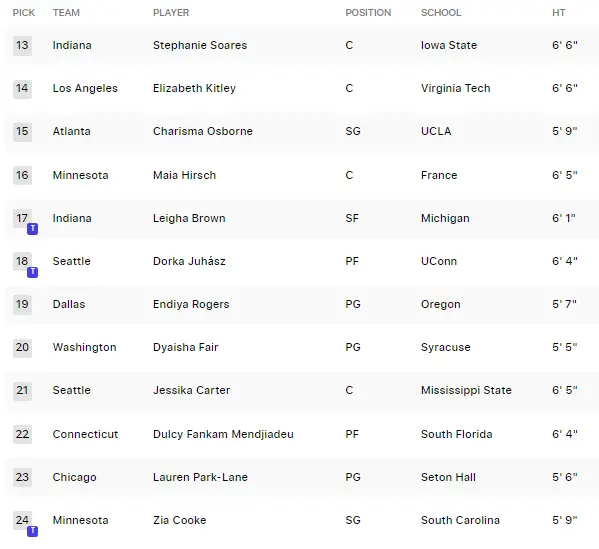 THIRD ROUND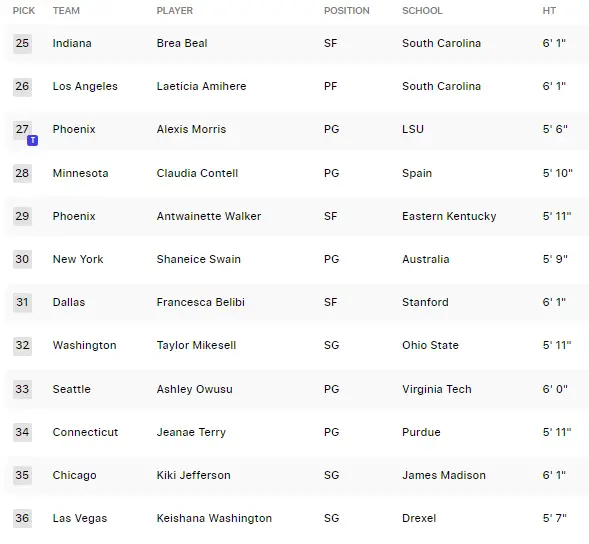 The 2023 WNBA Draft is set for Monday, April at 7 pm EST. ESPN will televise the event.