When watching Sol Ruca in a WWE ring, it feels different and fun to watch on many levels. She brightens the crowd with her sheer athleticism, which comes from her background as a gymnast. Ruca, whose real name is Calyx Hampton, was a champion gymnast in her home state of California. She accomplished the feat before attending the University of Oregon in 2018.
While there, Hampton was part of Oregon's team that won the synchronized pyramid individual event national championship. Afterward, she was looking for options as to what was next. That being said, she received a DM on Instagram that changed her life forever.  
Sol Ruca and Her Journey to WWE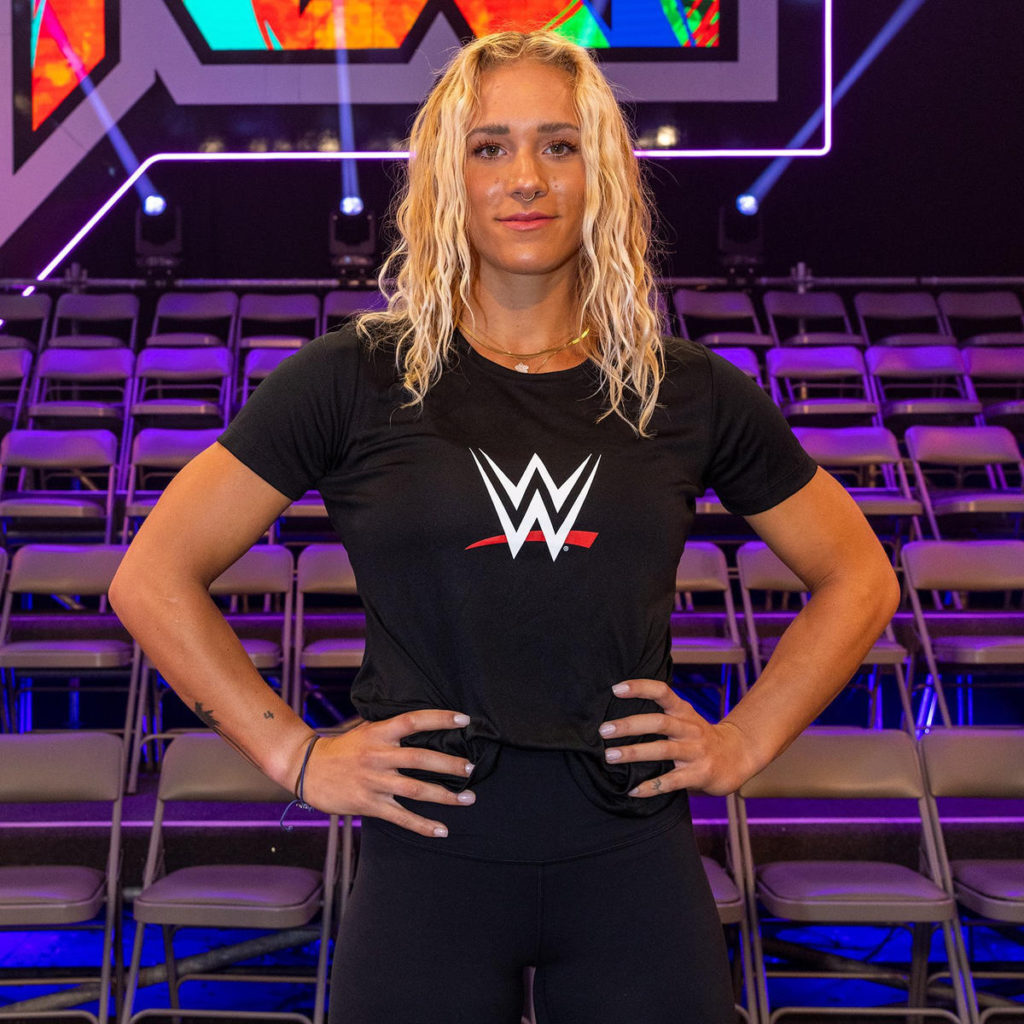 As she was building up her profile via social media, Hampton garnered an online audience who was interested in her escapades at a Hawaii gym. She sculpted her physique and kept up with some gymnastics training while in Hawaii. WWE came calling for the talented gymnast. In March last year, she was one of the 14 prospects who traveled to the WWE Performance Center in Orlando, Florida.  
I'm sorry but did I just see Sol Ruca do a pistol squat while balancing on a bar 6ft in the air pic.twitter.com/jg0e5T0uuD

— Soundwave (@LocalSoundwave) January 3, 2023
In an interview last December with Fox News Digital, Hampton didn't expect to be selected, but to her shock, she was offered and accepted a WWE contract. 
"It was a bit of a struggle at first, definitely a huge learning curve being able to have those moments in the ring and being able to be a character in the ring whereas, like sports, you're supposed to be serious the whole time. If you're talking and making facial expressions and that type of stuff is a big no-no." 

Sol Ruca via Fox News Digital
Sooner rather than later, Hampton became Sol Ruca and quickly went viral. Ruca faced Valentina Feroz last December on NXT Level Up, landing a move in what she named the "Sol Snatcher." Ruca was in the corner of the ring when Feroz attempted to fight with her. Instead, Ruca fended off Feroz with a boot to her stomach and an elbow to her head and neck area.  
OMG @SolRucaWWE JUST PULLED OFF AN INSANE MOVE 🤯#NXTLevelUp pic.twitter.com/EXwoKbJQC3

— NXT Level Up (@NXTLevelUp) December 10, 2022
Ultimately, Ruca next went to the middle rope, tumbling forward for a damaging neck breaker. Without question, Roca will be a force in NXT's women's division. Before you know it, she'll be a household name. Sol Ruca will be shining bright for years to come in WWE.  
You can follow me on Twitter. Also, follow Beyond Women's Sports for more from the world of sports.