The Phoenix Mercury traveled to the bubble last week. Diana Taurasi is finally back on the court healthy for the first time since fall 2018, as she'll be playing in her 16th WNBA season. There are a lot of new faces on this young and energetic Mercury team. I am very excited to see what the team has in store this season!
"We finally got to get some chemistry going all together, not individual. So it actually felt like the season started."

Hear from Coach, BG and DT on the productive first day of camp! #4TheValley pic.twitter.com/LzROfykSRi— Phoenix Mercury (@PhoenixMercury) July 11, 2020
Mercury Head Coach Sandy Brondello On Assistant Coach Hiring And Team Chemistry
Last Monday, the Phoenix Mercury hired Chasity Melvin as an assistant coach. As Penny Taylor stepped away for the season to focus on being a mother, Brondello, the head coach, said that" she needed another former player with coaching experience." The head coach spoke to the new assistant coach back in February/March and said that "she has the positivity." Both Melvin and Brondello used to play in the WNBA, and they seem to be familiar with each other.
Phoenix Mercury head coach Sandy Brondello said they're focusing on developing the team's chemistry right now.

In practice, there hasn't been a lot of running up and down but Brondello has already seen chemistry building—something Diana Taurasi touched on recently

— Alexis Mansanarez (@almansanarez) July 12, 2020
Brondello also talked about the team chemistry on this Mercury team and described it as productive and mature. She stated that having playmakers, such as Skylar Diggins-Smith, Diana Taurasi, and Bria Hartley, on the court can "make other groups hard to guard." They also have a "great 3-point shooting in the system." The Mercury's concern for last season was the number of injuries they had throughout the season. Including 3x champion Diana Taurasi, 38, who had back surgery and hamstring injury.
She only played for six games last season, averaging 4.3 PPG, 3.2 RPG, and 5.3 APG. Brondello said that Mercury would be healthier than they were last season because they certainly needed it. She feels pretty happy about how Diana Taurasi is doing in practice, as she "managed to come back to herself from the 2018 season."
Diana Taurasi on Her Health and Family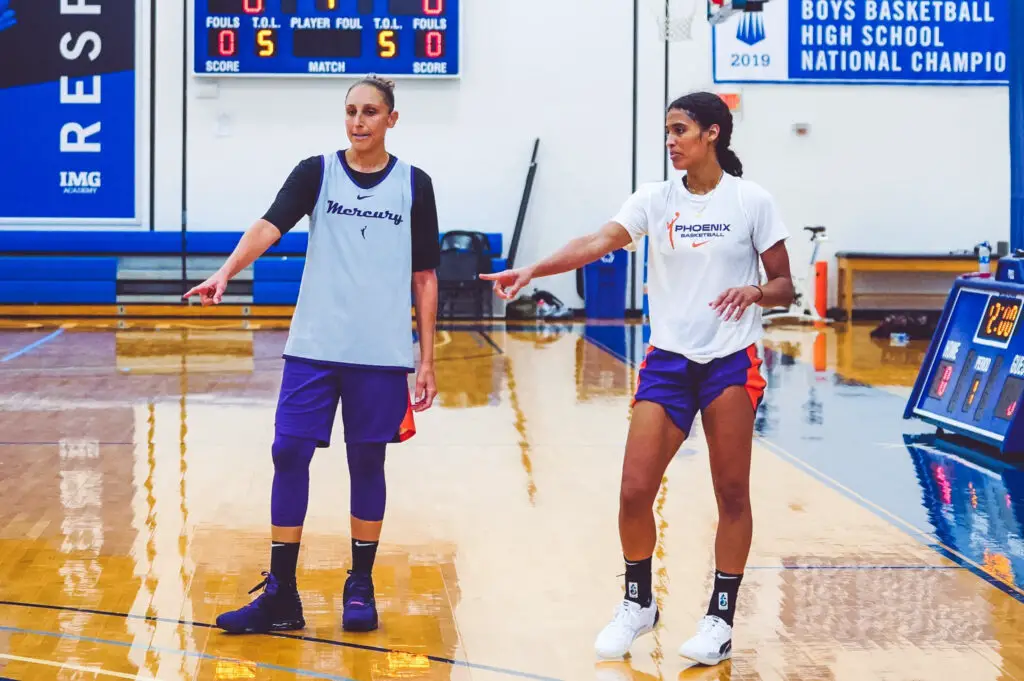 Diana Taurasi said, "that she felt the healthiest in months after practicing for two straight days. " She emphasized that her experiences of playing in the overseas -both in Turkey and Russia- "prepared her for bubble season." Hearing the positive news on Diana made me feel happy for her as she had more time to recover due to the delay of the WNBA season. I can't wait to see what she can do in this bubble season!
Diana Taurasi decided with a heavy heart that it is safer for both Penny Taylor and Leo to stay in Phoenix. She also stated that it is the best decision, but a difficult decision at the same time. She quoted:
"It was an hourly decision of coming or not coming," Taurasi said. "Ultimately, we decided it would be safer for them to stay in Phoenix. For four months now, we've quarantined in the house with just us. As safe as the bubble is, you exposed to 200 plus people. Just for the safety of Penny and Leo being so little, it was probably the best decision, but a hard decision. It's a long time to be away from your family."

~ WNBA All-time leading scorer Diana Taurasi.
Brondello And Taurasi On Skylar Diggins-Smith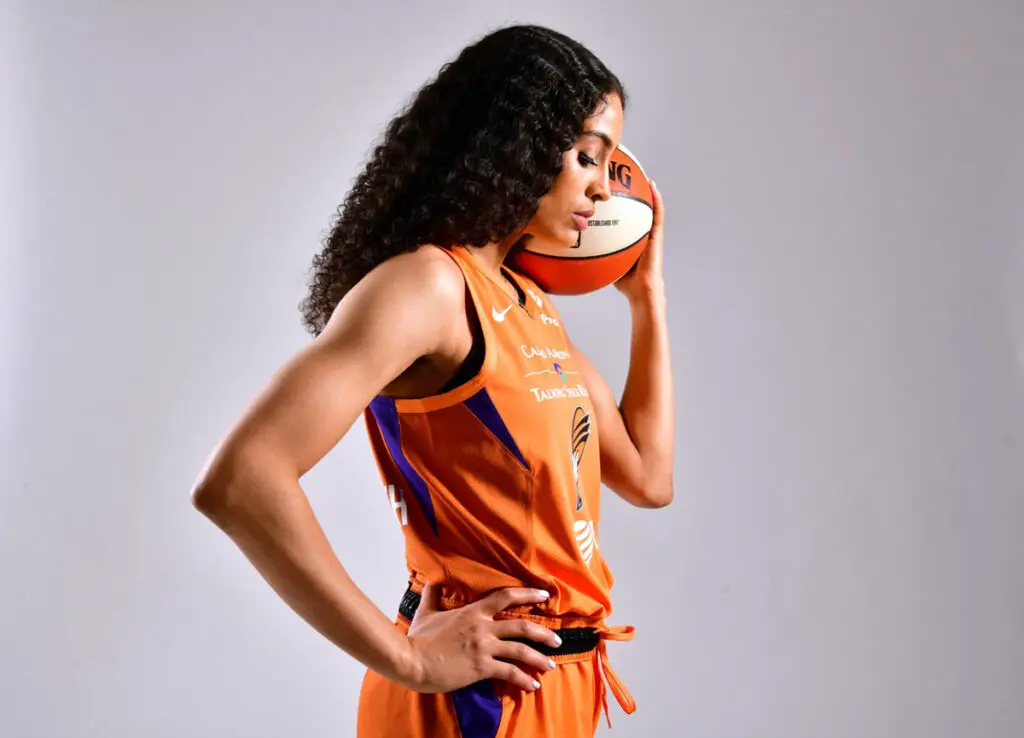 Brondello said that Skylar Diggins-Smith, Mercury's top target in the offseason, is going to give the team what they needed on both ends of the court. Diggins-Smith feels very eager to play for the team. Diana Taurasi said that the "team had a benefit of adding in another playmaker and believed that Skylar Diggins-Smith should be a member of First Team All-WNBA again." She also noted that the Mercury had an "easy time adjusting to the team chemistry by trading for Diggins-Smith this offseason. "
Taurasi on Skylar Diggins-Smith:
"It's already been a pretty easy adjustment," Taurasi said. "I've always admired her fight, her energy, her willingness to do the tough things, and her work ethic. We already see the benefits of having another playmaker on the court, someone else who can handle the ball."

~Diana Taurasi.
Skylar Diggins-Smith feels ecstatic about being apart of the Phoenix Mercury this season. She described the team as "very unselfish and talented altogether on the court." Diggins-Smith last played for the Dallas Wings in 2018 season while being pregnant, moderating 17.9 PPG, 3.3 RPG, and career-high 6.2 APG. Her statistics of the season led her to become one of the two players, another one is Diana Taurasi, to rank in the top 10 in both points and assists per game. She also has the athleticism and the strength on both offense and defense.
Mercury Player Status On Two Players
The two players of the Phoenix Mercury that did not travel to Florida are Sophie Cunningham and Jessica Breland. Cunningham said that she would join the team later this week. Meanwhile, Breland will medically sit out for this season due to precautionary health reasons with COVID-19. She also missed her season with North Carolina in the 2009-10 season as she fought through Hodgkin's lymphoma. Breland, 32, was acquired from the Dream in a three-team trade this offseason.
Breland's statement:
"These last two weeks have been tough for me.  As a cancer survivor, you fear a relapse, but you never think about the long-term effects of chemotherapy reeked on your body. The threat of COVID-19 has forced me to acknowledge a harsh reality — although I am one of the top 144 WNBA players, my battle with cancer years ago left me vulnerable to coronavirus.  With a heavy heart, I will be sitting out the upcoming WNBA season. I am blessed to have the Phoenix family behind me and their full support. I wish everyone the best in Florida, and I'll be thinking of you and cheering from afar!"

~ Forward Jessica Breland
After the news of Breland opting out for this season, the Phoenix Mercury roster now stands at ten players as they are over the cap space limit. Brianna Turner will fill in for Breland as a starter in the power forward position. I, with this, respect her decision to sit out, and I hope she is okay.
Follow me on Instagram and Twitter @ayaabdeen__ for more content. Follow my Diana Taurasi fan page on Instagram @dtaurasi3_fp. And check out more WNBA articles by the Beyond Women's Sports team.