Connecticut vs. Dallas is one of the most anticipated matchups during the first round. The Sun finished in third place while the Wings finished in sixth place. These two teams have already met three times this season, Dallas claiming the series 2-1. Can the Connecticut Sun beat the Dallas Wings? That is the question.
Regular season matchups
The Sun fell 2-1 to the Wings during the regular season. In their first matchup, the Wings won by eight. I'm not sure what Vickie Johnson said to her team during halftime, but the Wings came out shooting! The Wings outscored the Sun by 20 in the second half. Allisha Gray and company held DeWanna Bonner to just four points in that first matchup. Game two would not go the same; the Sun won by 31. Bonner led with eighteen points and six boards. Game three went to Dallas; they had five players in double figures and won by eleven.
Playoff veterans
The X-factor for the Sun? Odyssey Sims. Sims has been a great spark off the bench for Connecticut. But this doesn't work if Bonner doesn't score. Bonner can not disappear during the playoffs. Lastly, Jonquel Jones needs to play her style of basketball. She can go off the block or shoot the three; just make it count, JJ. Connecticut is pursuing the first franchise ring and this first matchup will test them.
Crafty Dallas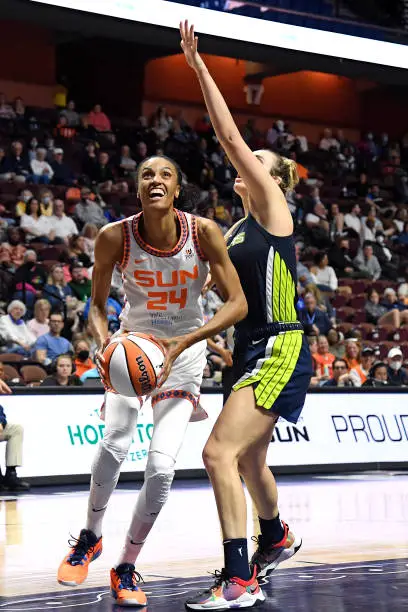 Dallas is without Arike Ogunbowale, one of their top scorers. While Dallas may need to be crafty, they certainly have the talent in Gray, Marina Mabrey and Tyasha Harris to keep up with Connecticut. Teaira McCowan has also developed this season. McCowan finished the regular season with four double-doubles. Can the Connecticut Sun beat the Dallas Wings?
You can follow me on Twitter. Also, follow Beyond Women's Sports for more from the world of sports.