In terms of Season Two of AU Basketball, it was one for the record books. Fans also saw the best players do what they do best for five weeks. Ultimately, a champion was crowned, Indiana Fever star NaLyssa Smith. Smith surpassed Naz Hillmon in the final game of the season by 151 points. Odyssey Sims placed third and Allisha Gray finished fourth. That being said, a recap of the last four games of Season Two. 
Game 27: Team Smith defeats Team Harrison in a close one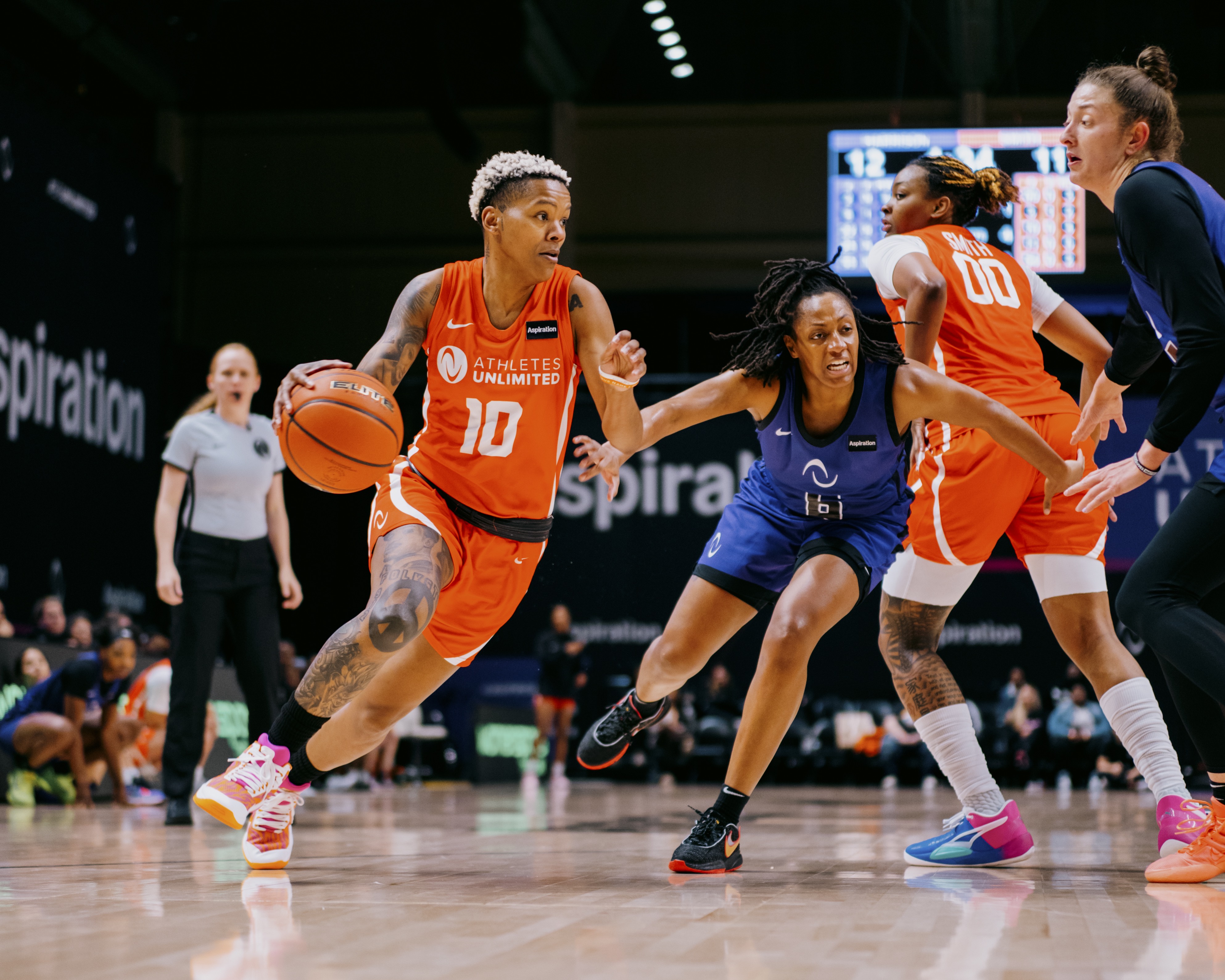 Here, guard Courtney Willams called the game with three seconds left with a jumper to get the 98 – 97 victory. Williams had 16 points and five assists for Team Smith, who won the first three quarters. Also, Smith helped her squad with 25 points and six rebounds, while Crystal Bradford contributed 24 points and six boards.  
Bradford added five assists to her stat line as well. Air Hearn went three of five from beyond the arc, getting 15 points.  
Isabelle "Izzy" Harrison's squad put up a strong effort, led by Kelsey Mitchell's 26 points and eight dimes. What's more, Theresa Plaisance was feeling it from three-point land, draining six of them and scoring 21 points overall.  
Next, Layshia Clarendon went over 77% from the field and got 18 points. Harrison helped her team with 12 points and eight boards as G'mrice Davis added 11 points. 
Game 28: Team Hillmon reaches the century mark over Team Sims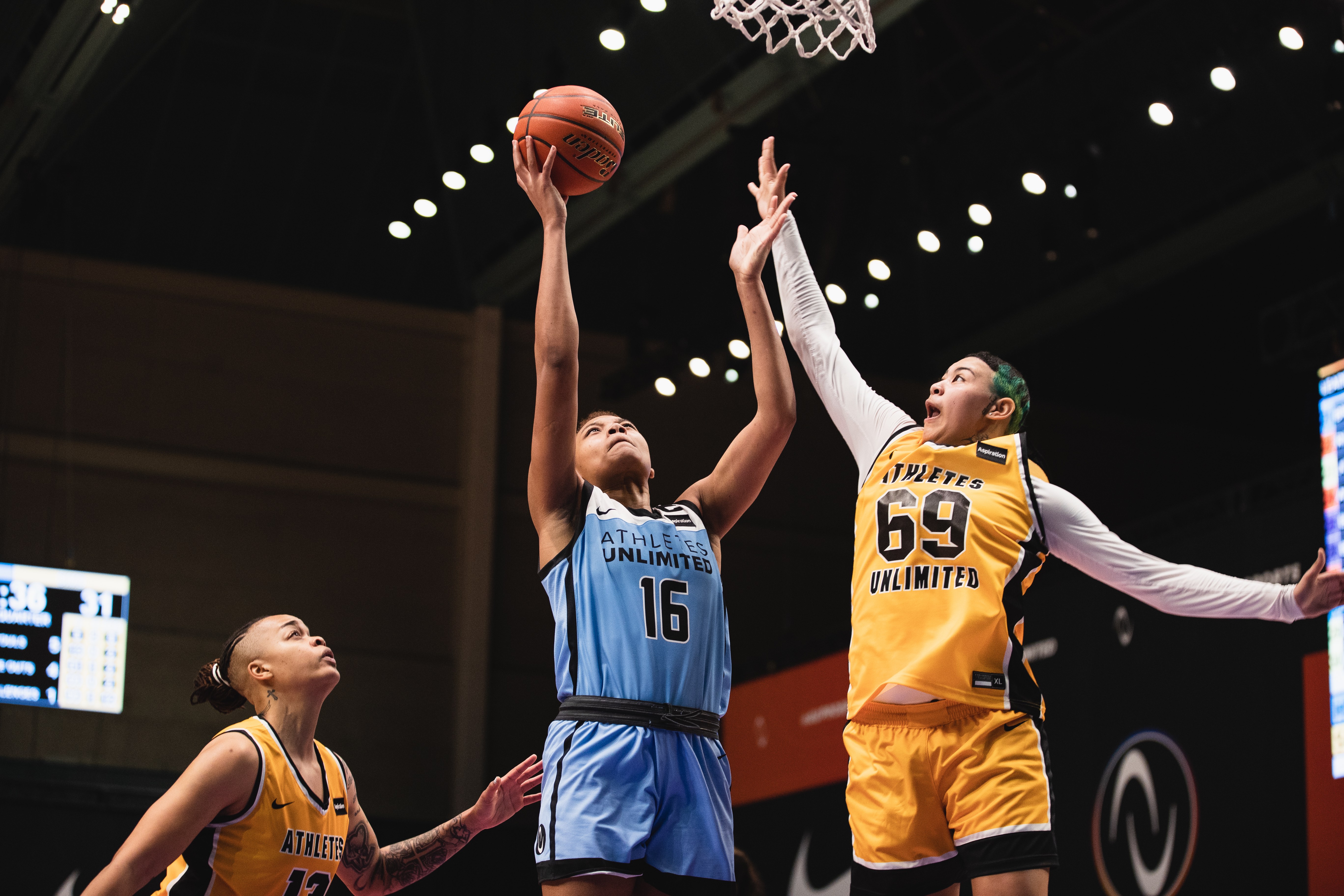 For Hillmon's team, six players found themselves in double-digits in their win over Sims' squad. Hillmon and Gray each had a double-double in the game as Hillmon had 30 points and 12 rebounds and Gray with 27 points and 11 caroms. Natasha Cloud added 15 points, while Lexie Brown and Taj Cole each dropped 10 points.
On the other hand, Sims took firm control of her team with a game-high 38 points, seven boards, and six assists. In addition, Essence Carson and N'dea Jones added 12 points each for Sims' team.  
Game 29: Hillmon's team goes undefeated in a 75 – 70 win over Team Harrison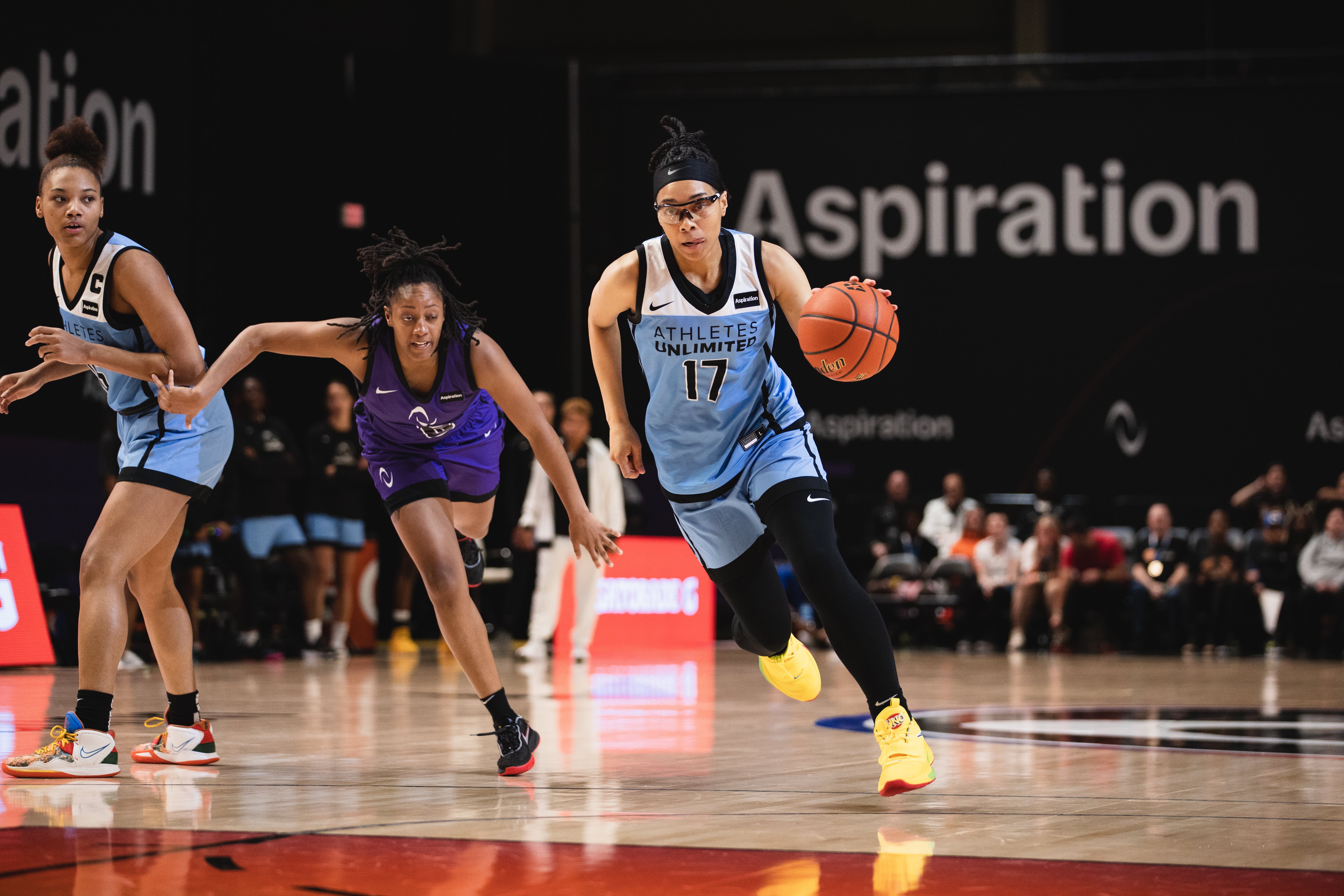 Without question, Hillmon did everything she had to do to stay in the championship hunt in this matchup. The Atlanta Dream forward notched another double-double with 12 points and 14 boards, her eighth one of the season. Gray led the team with 25 points while Ty Young added 16 points and 11 boards. Moreover, Cloud got her sixth straight double-digit scoring game with 14 points along with 12 rebounds.  
Harrison led the way for her squad with a 23-point and 12-rebound effort in the loss. For the Chicago Sky star, it marked the eighth double-double of her AU Basketball career. Mitchell and Clarendon added 11 points each for Harrison's team. It's important to note that each team shot 40.3% from the field. 
Game 30: Smith dominates to win the game and become the champion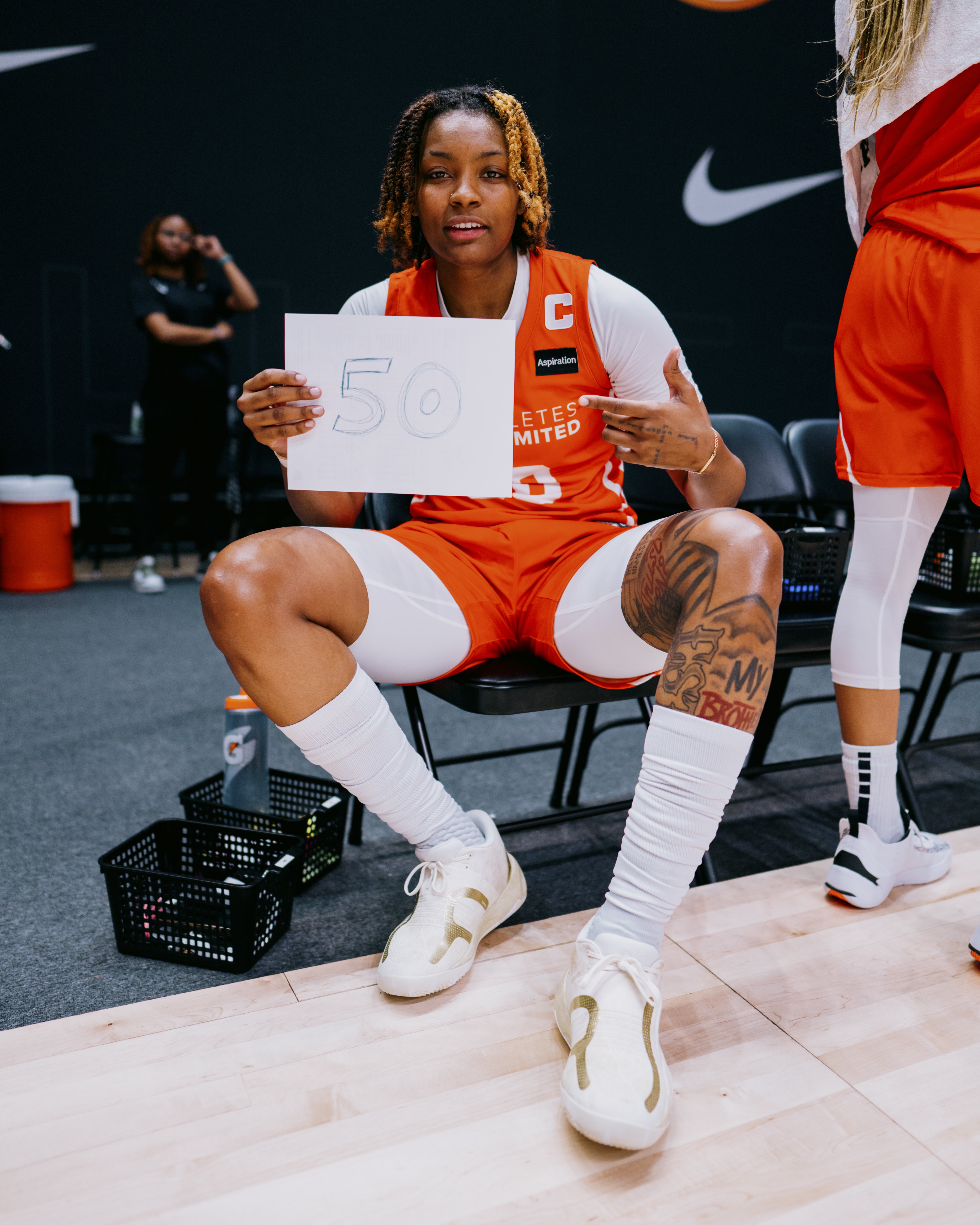 When looking up the word dominant, one might see a picture of Smith because that's exactly what she did this season. Firstly, she scored 50 points and nabbed 13 boards for her record 12th double-double, the most in league history. Secondly, Smith's team made sure she loaded up on points, especially Jordin Canada.  
Canada dished out 17 dimes while scoring 14 points. Hearn had 19 points while Lexie Hull, the Defensive Player of the Year, added 14 points and 11 rebounds. Bradford had 12 points and 14 caroms in the last of the season for Team Smith.  
Introducing the 2023 #AUHoops All-Defensive Team 🔒

⭐️ @lexiehulll
⭐️ @tyoung11
⭐️ @Graytness_15
⭐️ @jordin_canada
⭐️ @T_Cloud4 pic.twitter.com/KK9v7VR4zp

— Athletes Unlimited (@AUProSports) March 24, 2023
Kierstan Bell had 25 points for Team Sims, Sydney Colson 13 points, and Carson with 11 points in the 120 – 75 loss. Unfortunately, Sims was unable to finish the game due to an upper leg injury, finishing in 3rd place. 
Other awards and honors this season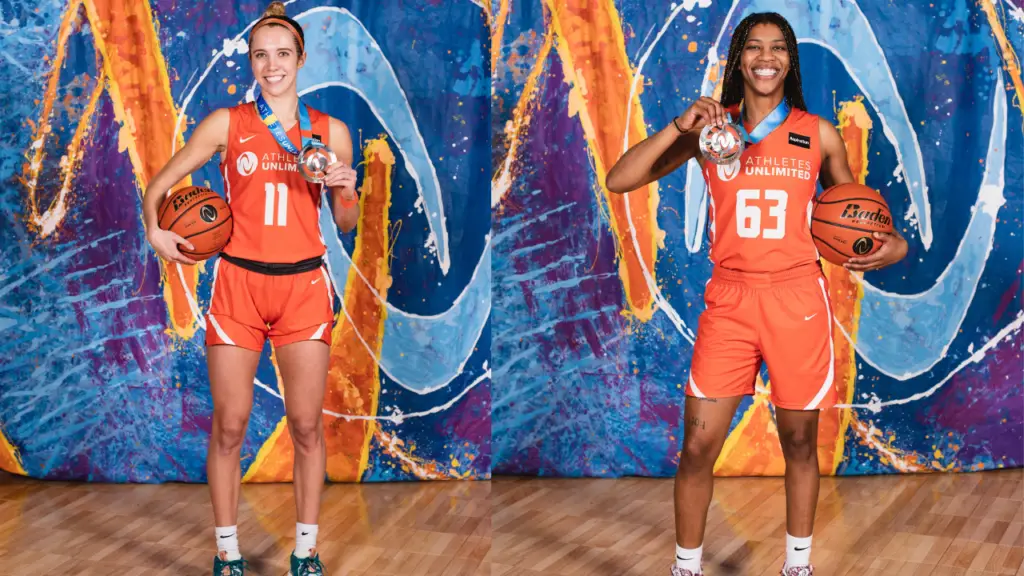 As mentioned earlier, Hull was this season's Defensive Player of the Year, tying with Canada with 29 steals. The Fever tied for fourth in blocked shots with 12. Unsurprisingly, she was named to the All-Defensive Team with Gray, Canada, Cloud, and Young.
The 2023 Athletes Unlimited Basketball Medalists

1⃣ @NaLyssaSmith 🏅#BeUnlimited | #AUHoops pic.twitter.com/XizeCfIAoG

— Athletes Unlimited (@AUProSports) March 26, 2023
Lastly, CC Andrews was given the Teammate of the Year award presented by WeThink. As Season Two of AU Basketball comes to a close, this season gave fans everything and more.  
You can follow me on Twitter. Also, follow Beyond Women's Sports for more from the world of sports.